It seems obvious, medicine doesn't work if you don't take it as prescribed. Yet, recent studies show that 25 percent of people never fill their first prescription External Site. And though 6 in 10 Americans External Site manage a chronic disease — like diabetes and heart disease — they only take their medications properly (dose and duration) about half of the time.
This lack of prescription adherence leads to an estimated 125,000 deaths and at least 10 percent of all hospitalizations in the U.S. annually. And it costs the health care system between $100 billion and $289 billion External Site each year.
Maintenance medications are commonly prescribed drugs used to treat chronic or long-term conditions and usually require consistent, daily use.
So how can you help encourage adherence for employees and their family members? While there's not a one-size-fits-all fix, ease and convenience remain top priorities.
Add mail-order prescriptions to your pharmacy benefits mix
If your employees or their family members take maintenance medications, mail order may be a great fit. Once registered, participants will get 90-day supplies delivered right to their door. Plus, mail order offers a few other bonus benefits:
Better prescription adherence with 90-day mail-order refills.

Automated prescription refills can get a bad rap for being wasteful: What if too much of the drug is delivered? Am I losing money paying for medications I'm not using? Instead, a study from the American Journal of Managed Care

External Site

shows an automated 90-day supply of a maintenance drug leads to higher adherence and less waste than 30-day supplies.

Convenient access to maintenance medications.

Your employees can save time and skip the lines at the retail pharmacy with mail-order prescription refills. They can set up automatic refills delivered via mail (or schedule a pick-up at their local pharmacy).

Mail-order pharmacy vs. online pharmacy: What's the difference?

It's easy to confuse the two because both deliver prescriptions via mail. However, mail-order pharmacies are part of a health insurance carrier's pharmacy program, which means benefits will automatically apply. Online pharmacies, though, act more like any other online retailer (some are properly licensed and some are not — check BeSafeRx

External Site

) and may not accept insurance coverage.

Deliver savings and greater satisfaction to your employees.

Depending on your pharmacy benefit plan, your employees could pay two copays for a three-month supply via mail order. Even without a benefit-based incentive, your employees will likely pay a lower fee for filling a 90-day supply. And often, 90-day supplies through mail order offer additional cost savings to your plan, too.
For Wellmark Blue Cross and Blue Shield customers, please talk with your authorized representative to understand your benefit-design options.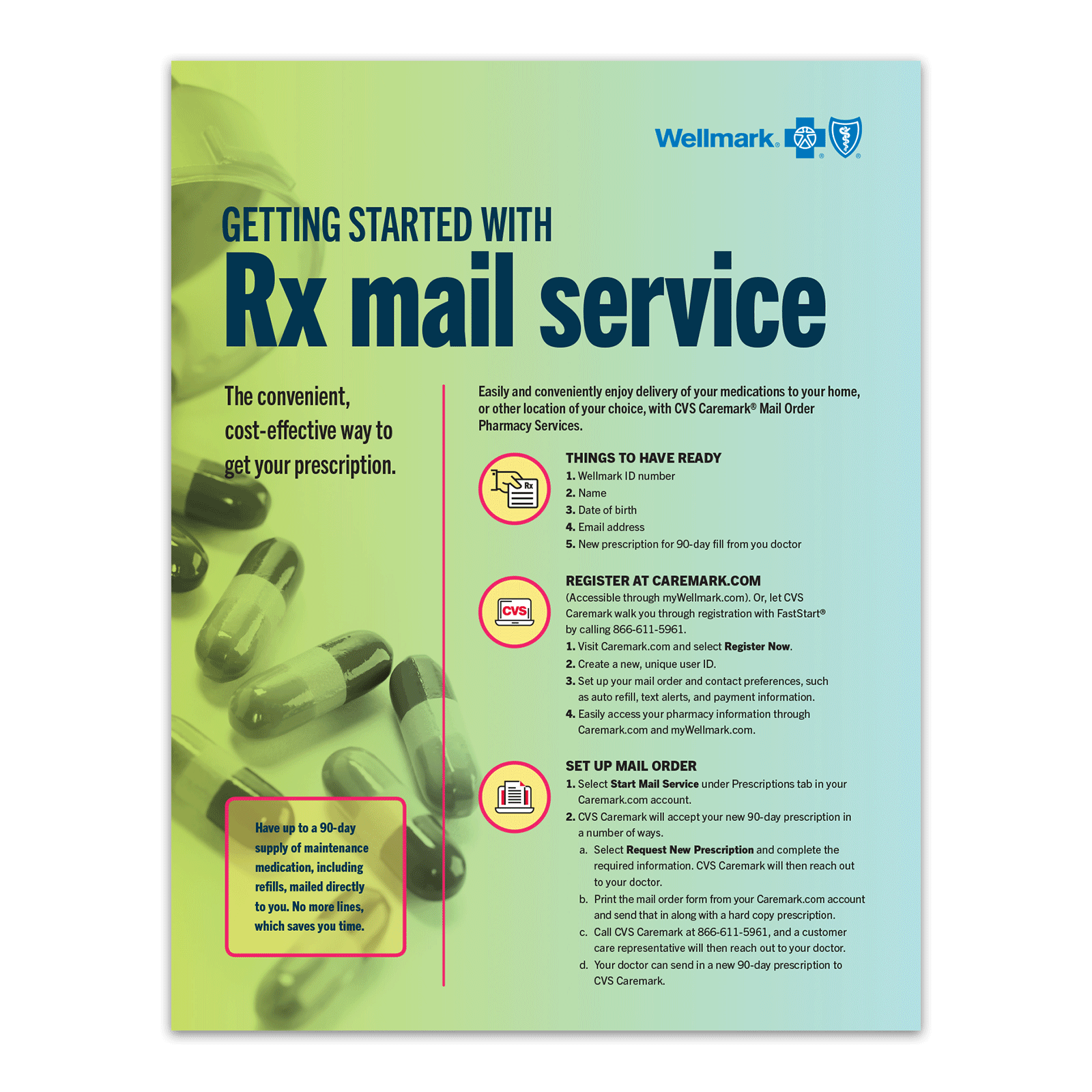 Check out the step-by-step guide to getting started with our mail-order prescriptions flyer Secure Site on the Marketing Toolkit.
Find more pharmacy insights, or email us at blueatwork@wellmark.com Send Email, for additional information.