Health insurance can be confusing. But, by gaining a basic level of understanding about your health plan, you can make better choices, and save yourself money and time.
Get your benefit information at a glance
Knowing the answers to these questions could help you avoid surprises and unnecessary costs. Once you're logged in to myWellmark®, it should only take you a few minutes to find the answers to some common benefit-related questions.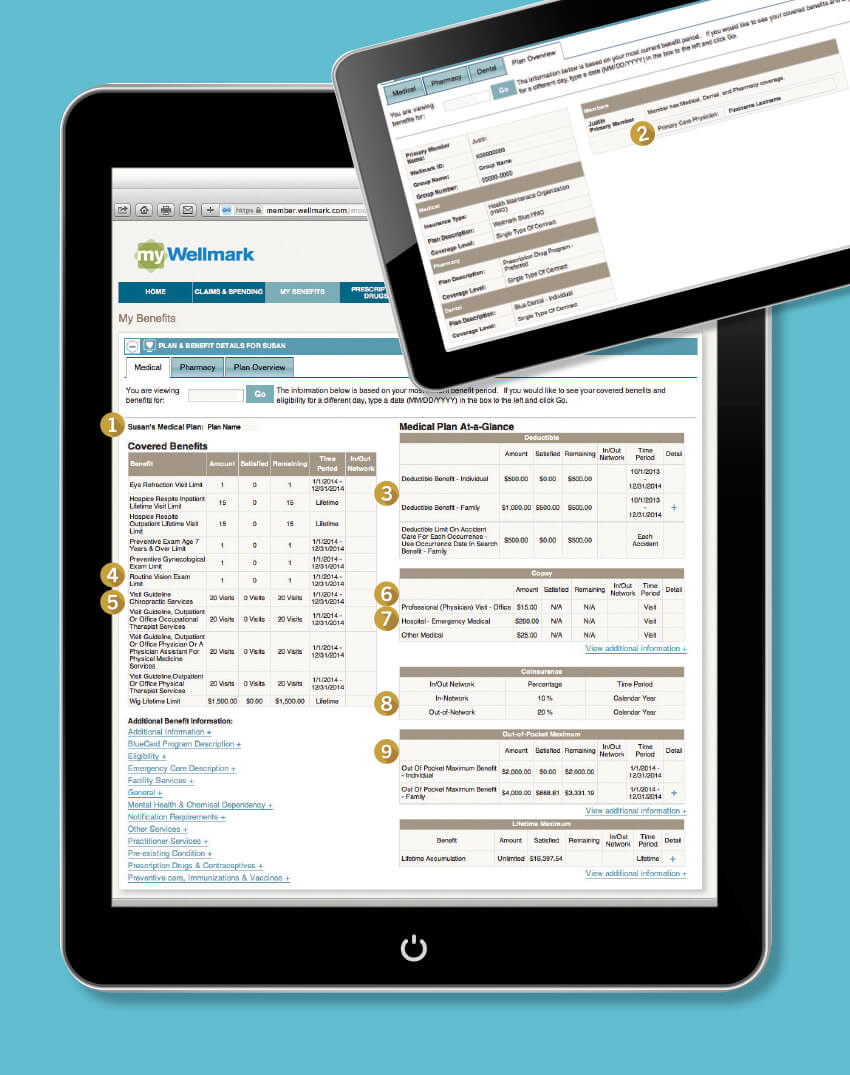 What is the name of your health plan?
Have you designated a personal doctor? If so, who is it?
What is your deductible amount? How much is used? How much is remaining?
Is an annual vision exam covered under your health plan?
Is chiropractic care covered? If so, what is your chiropractic visit limit?
What is your office visit copayment or coinsurance?
What is your emergency room copayment?
What percentage of coinsurance or copayment will you pay for a hospital visit?
What is your out-of-pocket maximum?
Do you want to make sure you understand your prescription drug benefits too? Check out these 3 rules of thumb.
Decoding the jargon
Terms like copayment, deductible, out-of-pocket limit or coinsurance are all important to know when looking at your benefits. Take 10 minutes to understand your coverage so you can be prepared the next time you need services.
myWellmark: your best bet for health insurance information
Know your coverage. Know your cost share. Knowing changes everything.
myWellmark is your one-stop-source for all your health insurance information. Here, you have access to personal plan details and tools, including the myWellmark® Care Finder. With the myWellmark Care Finder, you can see an estimate of how much a procedure costs before you receive care, and even see patient reviews of providers and facilities.
You can also sign up to receive your Explanation of Benefits online with myWellmark. Your EOB is a simple recap of how your insurance paid for care you received. By getting your EOBs through myWellmark, you can easily track and manage your health care spending by date, provider or patient. Plus, with timely access to online EOBs you'll no longer have to wait for a bill from your doctor to know if you owe money, and you can confirm your benefits paid as you expected.
Log in or sign up for myWellmark today! All you need is your Wellmark ID card and an email address.