HPV (human papillomavirus) is the leading cause of most cervical cancers, but it can cause different types of cancer, too. Both men and women are at risk, but doctors say it's preventable.
"I'm not supposed to be here, I'm not supposed to be sick." Those were the repeated thoughts that swirled through Shawna Applegate's mind in mid-2005. At age 31, she was approaching a life-changing surgery she didn't want, and certainly didn't expect. But, she had no option if she wanted to survive cervical cancer.
At the time, Applegate, a first-grade teacher from Fairfield, Iowa, was a mother of a 3-year-old daughter and a 9-month-old son. She was living an active, healthy life. An avid reader and aspiring vocalist (this woman can sing!), Applegate was hitting the high notes, both in her vocals, and in her personal life.
One preventive exam changed everything
During a routine medical exam, however, all that changed. During the pelvic exam, Applegate's doctor found a tumor he believed to be non-cancerous. They decided to remove the tumor that week, and sent it to the lab. Applegate had never had an abnormal Pap test result, or any symptoms that might suggest she might have cancer. But, when her doctor called the next day, his news confirmed her worst fears: the test results revealed she had cervical cancer. "My heart was beating out of my chest," says Applegate. "I felt myself spiraling. It just didn't feel real; it was devastating."
Before she had time to process the diagnosis, Applegate was scheduled for a critical, demanding surgery to remove, among other things, more than 40 lymph nodes, her cervix, uterus and appendix. "The surgery and resulting recovery was absolutely grueling," says Applegate. "There is no getting around it. It was as if I was given a new body, one that didn't belong to me."
Please correct the following error(s):
Want more stuff like this?
Get stories to inspire you, tips for healthy living and understanding health insurance, plus exclusive videos you can't find anywhere else. It's all in the monthly Blue newsletter!
HPV is the main cause of cervical cancer
HPV (human papillomavirus) is a very common virus. Most HPV infections go away on their own without lasting health problems. However, HPV is the main cause of cervical cancer. It's linked to a lot of other kinds of cancer, too, in both men and women. There are two simple ways to protect yourself from cervical cancer, or other HPV-related cancers:
Get vaccinated. The HPV vaccination

External Site

is most effective for both boys and girls when given at age 11 or 12. The most common reactions from the HPV vaccine are mild and scientists, and doctors are confident it's safe.
Get screened regularly. Screening can find changes in the cervix before cancer develops. It can also find cervical cancer early — when it's small, has not spread, and is easiest to cure.
A couple important facts about cervical cancer
Over the last 30 years, the cervical cancer death rate has gone down by more than 50 percent. Before that, cervical cancer was once one of the most common causes of cancer death for American women. The main reason for this change is the increased use of screening tests.
All Wellmark health plans cover the cost of the vaccine. If you don't have insurance, the Vaccines for Children (VFC) program

External Site

covers the cost of the HPV vaccine.
"I felt like I was watching my life crumble."
Following surgery, it took Applegate several weeks to retrain her body to do tasks she once took for granted. Her full recovery would have to wait, though, because she had to start treatment. Only three weeks after surgery, Applegate began radiation treatments. This left her unable to lift her two young children or attend to any of their needs. Her young son and daughter had to leave her home and be cared for elsewhere, while Applegate attempted to heal.
"That, by far, was the hardest part," says Applegate. "Beyond everything else, I couldn't be there for my babies. At that point, I truly wanted to give up. I know you'd much rather hear an inspirational message, but this is the brutal truth. I was not bouncing back. I felt robbed of time. I felt robbed of watching my children grow up. As a result, my marriage also suffered. It seemed there was no area of my life that cancer didn't touch. I felt like I was watching my life crumble."
Drawing inspiration from others
Things turned around while Applegate was at her oncologist's office at the University of Iowa. There, she was able to connect with others who had serious illnesses, like herself, and were experiencing the same physical and emotional pain.
She also became involved with Cervivor External Site, a nonprofit organization that helped her create a bond with other cervical cancer patients and survivors. "Having people who understood what I was going through was an enormous boost for me," says Applegate. "I began to see, slowly, that life is truly precious, and that I was given a second chance," adds Applegate. "Cervivor has truly changed my life and given me healing."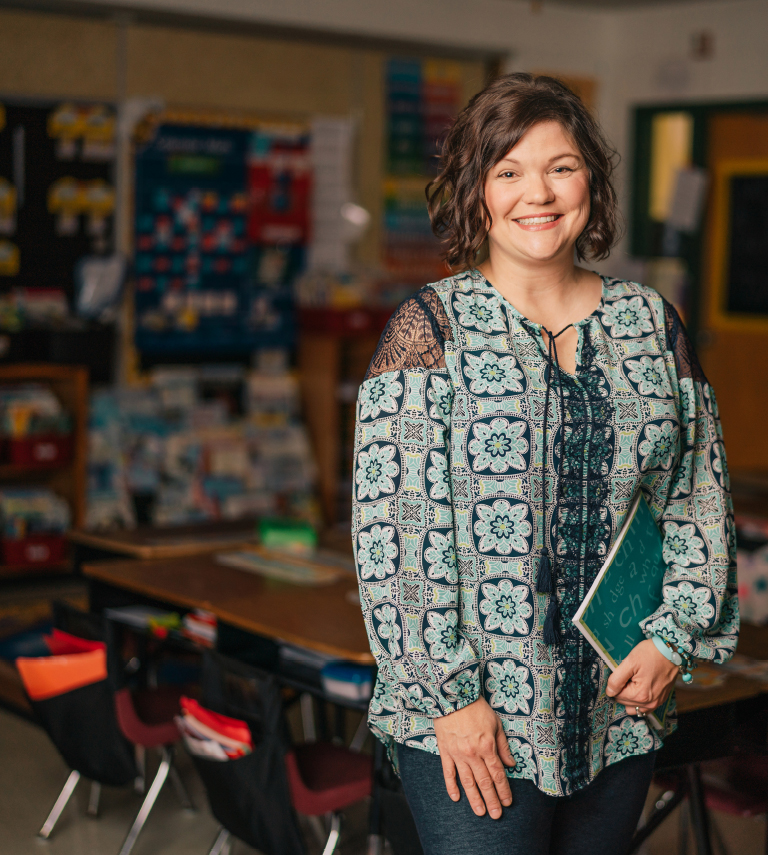 Applegate also emphasizes the important role her health insurance played in her recovery. "If I didn't have my health insurance, I don't know where I would be today," says Applegate, 12 years later. She is back to teaching first grade, but she still suffers many of the long-term side effects of the cancer, surgery and radiation.
A new sense of purpose
Applegate's son and daughter, who are now teenagers, have been vaccinated for HPV. "It brings tears to my eyes knowing that my daughter is protected from this horrible disease," says Applegate. "Why gamble? Having survived the nightmare that is cervical cancer, it is simply astounding to me. This can happen to anyone. And it can be prevented. That feels like a miracle to me."
"I will never be the same," says Applegate, "But I feel a sense of purpose in telling others about the risks of HPV (human papillomavirus) and cervical cancer."
"First of all, I want to be clear that I'm keenly aware of the debate surrounding the HPV vaccine, and vaccines in general," says Applegate. "But I've lived through my own, personal nightmare. And today's advances in vaccines prevent this from happening to others. Scientific research shows the benefits of HPV vaccination far outweigh the potential risks. Whatever you decide, be sure to check credible sources before you dismiss this, or any, vaccine."
Applegate stresses the importance of preventive exams, "Even if your doctor says you only need a Pap test (a screening test for cervical cancer) once every three years — you still need an annual pelvic exam. That's how my tumor was found," says Applegate. "I can't stress it enough: Talk to your doctor. Schedule regular, preventive exams and vaccines."
Survivor stories
Watch a video about Applegate, and other HPV-related cancer survivors, men and women.
For more information about cervical cancer, its signs and symptoms, screening tests and the HPV vaccine, visit the American Cancer Society External Site.